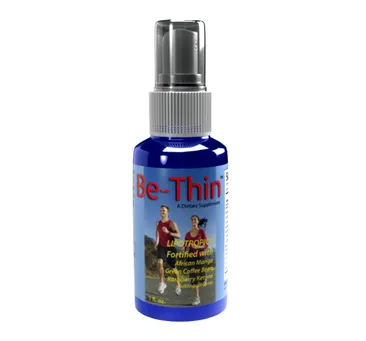 B-Thin Spray
B-Thin Spray is a unique combination of vitamins that work synergistically and helps to combat stress. Although these vitamins are available in a wide variety of foods, they are light and heat sensitive and are depleted with poor food storage. Also, overcooking food and cooking with water leads to vitamin loss before ingestion. Consequently this water soluble vitamin group needs daily replenishing.
B Vitamins are natural stress fighters that also participate in the release of energy into the body by metabolizing carbohydrates, fats and proteins. They are essential for normal function and formation of blood cells in the nervous system. In addition, they help to maintain healthy skin, hair, eyes and mouth.
Vitamin C is a member of the antioxidant family and will aid in preventing the damage to cells from free radicals. Vitamin C helps in the healing process of wounds. Many studies have shown that it assists the body to build resistance to virus infections.
Folic Acid aids in boosting energy production and red blood cell formation and it is an essential component for healthy cell division and replication. Latest studies indicate it prevents birth defects and brings down the homocysteine levels in middle-aged men and help to prevent heart attacks.
Choline and Inositol are two important nutrients that work together helping the body metabolize and transport fats.
Biotin works to utilize B Complex vitamins in the body and help folic acid convert to its biologically active form. Biotin contributes to the metabolism of fats, proteins and carbohydrates growth.